Kanye West is one of the most successful artists in the world. He's also one of most public about suffering from mental illness. Kanye West suffers from bipolar disorder. Like a lot of people with mental illness, his symptoms are often confused with his personality or intentions. Kim Kardashian has been supportive of her husband, and recently called for compassion for West after his controversial statements about slavery and Donald Trump. She spoke about how his statements during manic episodes didn't align with his intention or his heart. Now that they are getting divorced, she has been clear that she wants a conflict-free separation. Most importantly, she wants West to be an active co-parent to their children. She has said that mental illness should not keep West from being a collaborative co-parent.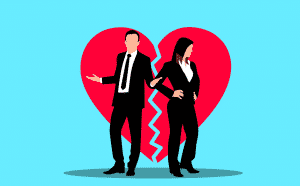 Kim and Kanye's Amicable Divorce
Kim Kardashian and Kanye West have a prenup. They have asked the judge to enforce the terms of the prenup, which waive spousal support. This is a common move for high net worth couples. They have also asked for joint custody of the children. Whatever they actually feel for each other, they have made a decision to separate their feelings from their divorce and work together as co-parents and supportive ex-spouses. Despite efforts by the tabloids to create the drama of an old school celebrity divorce, Kim Kardashian and Kanye West's divorce shows that amicable divorce is the new face of celebrity uncoupling.
Prioritizing Compassion and Peace
If having a peaceful divorce is possible, even for a couple with a lot of assets in the public eye, how can you achieve a similar outcome even if you or your spouse are struggling with serious mental health issues? Divorce mediation is a way of negotiating your divorce with your spouse guided by a neutral mediator who can help you resolve all issues related to property, children, spousal support and any other matters related to your divorce. Unlike traditional litigation, mediation does not narrowly focus on legal or property issues or each spouse's self-interest. The focus is common interest, whatever that means to the couple. In the case of a high net worth couple like Kanye West and Kim Kardashian, it means parting as independent business people (in their case waiving spousal support), but agreeing to stay united as co-parents to their children, even in the face of mental health challenges.
The mediators at Divorce Options San Diego combine psychoanalytical, legal and financial expertise to help California couples getting a divorce come to solutions that involve a calculation of each spouse's abilities, desires and resources. Often the financial, emotional and practical are intertwined. There are many ways mental health, parenting, career and money intersect with divorce. There may need to be a thorough evaluation of parents' ability to work, parent and manage mental health issues. One parent might need support while they take time off work. When there are serious mental health challenges, co-operation and mutual support benefits the kids more than fighting. If the parent with mental health issues can feel supported, the children's support system is stronger. Co-parents may need to establish trust and a system for alerting the other of their ability to follow through on commitments and co-parenting duties. It may be necessary to engage the support of family and friends, such as in-laws, mental health professionals, and other people who can be caretakers for kids or otherwise support the couple in their divorce journey.
Kim Kardashian has done a lot to combat mental health stigma and show that co-parenting with someone with mental health issues is a matter of co-operation, not commitment or ability. Mediation helps couples getting a California divorce reach agreements that will support them when they get divorced, not cut them off from the support of their co-parent through conflict.
Our Services and How We Can Help
At Divorce Options San Diego, we are highly qualified professional San Diego mediators and certified financial planners with psychoanalytical expertise. Our California divorce mediators are caring, educated professionals who build divorce around conflict resolution, closure and practical solutions for your future life. At Divorce Options San Diego we reframe divorce as an opportunity to generate creative, optimized solutions for your future and your kids' future. We do not do adversarial work and we do not ever represent one spouse against another. We empower divorcing spouses to own their divorce and craft sustainable, effective mutual agreements that will last long after the divorce is finalized. If you require help with your divorce transition, we offer divorce transition coaching, divorce coaching, life coaching and business coaching. We can work with all aspects of your post-divorce life to make your transition as fruitful and empowering as possible, including career coaching, re-training, working with financial wealth advisors and other professionals, moving services, connecting you with realtors and interior design for your new space. If you have mental health issues we can make this a priority in your mediation and in all aspects of planning for your post-divorce life. We cater to those with busy lives who want the best for themselves and their children. We use developmental psychology, attachment theory, psychology of grieving and family systems psychology to help you and your children through a difficult emotional transition. San Diego Divorce Options puts a high premium on a peaceful, child-centered divorce.We help divorcing parents draft multi-phase parenting plans considering the child's developmental needs. These parenting plans are lightweight, flexible, but thorough and in compliance with California law. We can assist you with the tools to stay connected to your child even if you aren't the primary caregiver or have relocated internationally. We help you draft settlement agreements that are fully legally compliant and take into account the needs of all the family. Mediation is a 100 percent confidential process, so you can be assured your divorce will be handled with care and privacy. At Divorce Options San Diego we emphasize an efficient, caring process that leaves out no detail relevant to your emotional, financial or legal situation. This leaves you free to get on with your life and care for your kids and yourself both during and after your divorce. Our safe, socially distanced mediations can be facilitated by Telephone, Zoom, Facetime and other videoconferencing tools. We are available 7 days a week and at urgent notice. Please contact us to see how we can help.
Read More:
Kanye West's 2020 apology, Kim Kardashian's plea and a harsh truth about mental health
Kanye West's mental health issues won't affect child custody in Kim K divorce